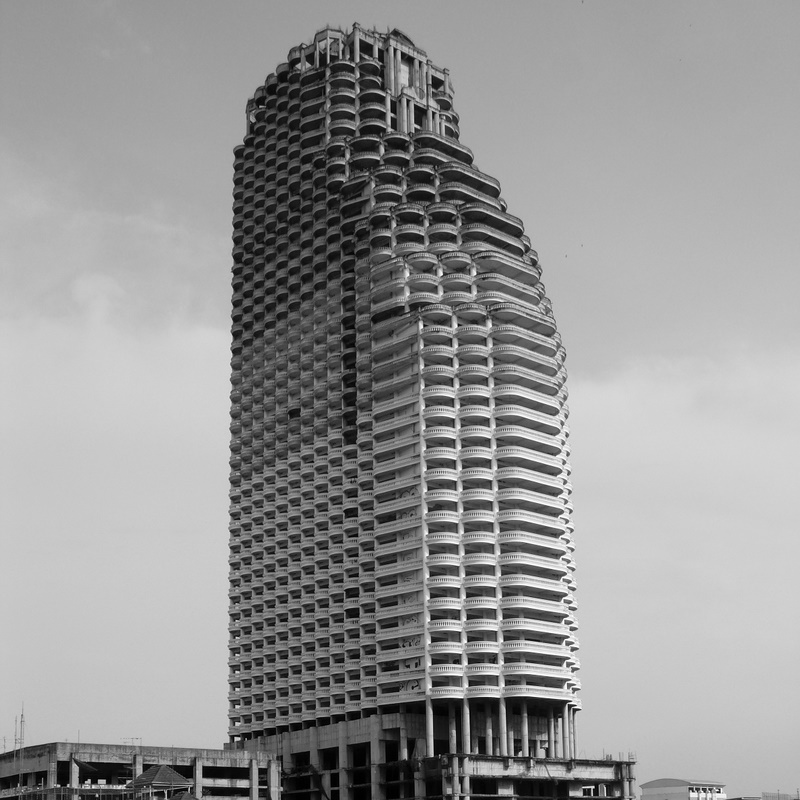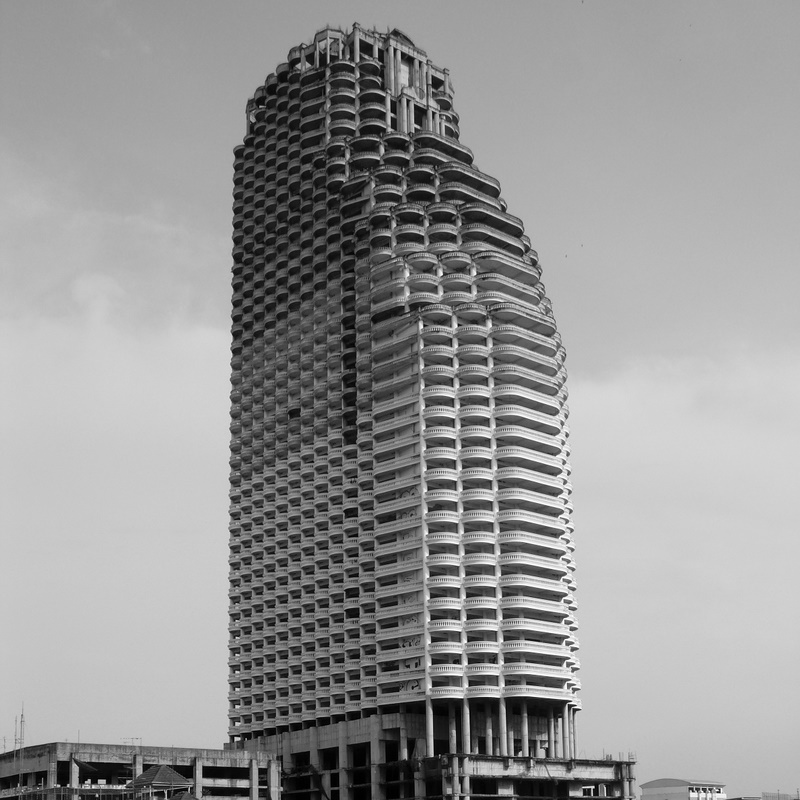 Bangkok, Thailand. Just fourteen years ago, the Sathorn Unique skyscraper was being built, destined to become one of the city's fanciest residential addresses. Now, it is an  abandoned building. Never completed, it remains as yet another "ghost tower" of Bangkok.
A tangle of trees and vines are beginning to take over the lighter parts of this monolith, such as the four-level archways and Romanesque feature columns. Amazingly, this building is located in the central area of one of the worlds largest cities. These towers were built during the mid nineties, when the Thai economy was booming. In 1997, the Asian Financial Crisis changed all that.
Developers stricken with debt were unable to finish many projects. In the case of Sathorn Unique, the main concrete structure made it all the way to the top. The apartment fit-outs had begun in earnest, with wooden floor boards installed and polished. Connected bathtubs, wardrobes, and electrics show just how close this one was to completion.
At ground floor, two escalators have been installed, climbing to nowhere in particular, the remnants of protective plastic still clinging onto their stainless steel sides.  With an amazing location close to the Chao Praya river that snakes it's way through the center of Bangkok, it's easy to see how this abandoned building would have been luxury living at it's finest.
After a tip off from some of the locals, a small climb got me into the lobby area. Inside, a man had set up a shrine, and was providing offerings to his God. Children who were playing around the outer area of the building had clearly been warned of the dangers inside.
Although they were smiling, they were clearly fearful of the building, perhaps due to the ghost stories and other tales of fear their elders had instilled in them. For good reason too – this is a particularly dangerous site, with plenty of opportunities to take a 40+ level fall through one of the many unsealed shafts that exist, often in total darkness. Throw in a pack of wild dogs, some quite unusual smells and sounds, I quickly realised this abandoned building was not to be taken lightly.
From the brochure: (conveniently,  there was various sales materials still floating around the building):
Sathorn Unique Tower is our first residential project in downtown Bangkok. The tower is 49 storey with the total of 659 residential units and 54 retails, located only less than 200 meters from BTS : Taksin station. Sathorn Unique Tower is also located at the edge of old commercial town of Charernkrung meets the new international business zone of Silom-Sathorn roads. It sits on the a horse-shoe blend which is considered as the best place for overlook at the Bangkok's grand cityscape and the charm of the Chaopraya river.
Bangkok probably has more abandoned buildings and modern day ruins than any other major city on earth. In the 14 years since the Asian Financial Crisis, the Thai economy has recovered, and many new gleaming skyscrapers have been built. Still, there remains a number of the abandoned ghost towers like Sathorn Unique. Earlier this same day, I scaled another forty storey building, an abandoned complex of three near-identical towers, with another abandoned building next door for good measure! Story and photos, coming soon.
I wouldn't recommend visting the inside of this abandoned tower.  Truly, it is an incredibly dark and dangerous site. There are many holes for you to fall down a very, very, long way. Not to mention, the locals insist it is haunted (they were really quite insistent!). Of course, trespassing is illegal. However, it is an incredibly easy building to get to, and take a look around.
Information for "Sathorn" Unique Abandoned Skyscraper, Bangkok:
Getting there : Take the train to BTS Saphan Tak. The tower is located close to the cross road between Sathon Tai and Charoen Krung. Look up, you won't miss it. Check the map on this page, the pin is right on top of this abandoned skyscraper building.
Dr. Hank Snaffler Jr.