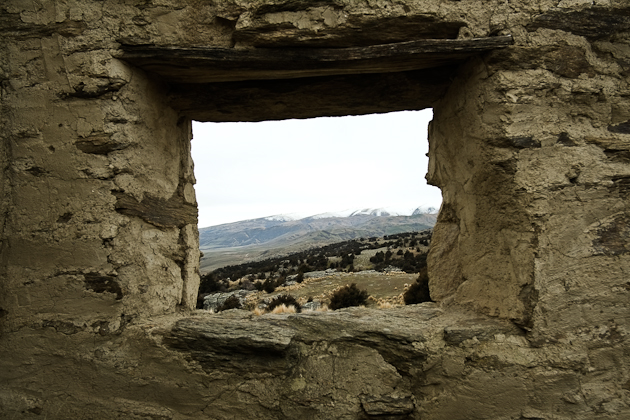 Bendigo New Zealand is an abandoned gold mining town on the top of an impressive mountain in the South Island of New Zealand. Located near the (not abandoned) town of Cromwell, Bendigo operated as a bustling small town for around half a century, ceasing operations almost one hundred years ago.
This is something a little different here on Abandoned Journey. Usually, my abandoned building reports tend to have a distinctly urban feel to them. Not this time – Bendigo is about as country as it gets. The drive to the top of the mountain, on a steep, narrow, unsealed road, in the RV (or the "Snaffler-Mobile" as I have named it) was sketchy to say the least.
Although the drive was a little hair-raising, the remarkable views and striking remains of the old stone cottages, were worth it. These photos were taken at "Welshtown" – Bendigo was large enough at one point to consist of more than one town. When new, these cottages would have been cozy and well decorated, down to the latest in fashionable wall papers sent direct from London and Paris.
Most of the original structures were made of wood and tin, and have now been reclaimed by time. Fortunately, Bendigo grew wealthy enough, and large enough, that the residents upgraded to stone – the remains of which are still standing a century later.
It was incredibly cold up on the mountain top, but a brisk walking exploration of Bendigo revealed some interesting remains, with at least ten or more stone structures, and various mine shafts. The mine shafts were located within a few minutes walk from the stone cottages.
The ruins of Bendigo reminded me of my holidays to Greece from several years ago – the buildings may not be as impressive as the ruins of the Parthenon in Athens, but the view certainly was. In any case, I enjoyed my time at Bendigo, and although the structures were not as grand as some of those I have explored, the overall feel of the destination made for a great afternoon.
From the abandoned town of Bendigo, I have carried on further South in New Zealand, giving the Snaffler-Mobile a work out in search of more abandoned structures, towns, and well, anything abandoned at all really!
I hope you enjoy the photos of the abandoned town of Bendigo, New Zealand.
Dr Hank Snaffler Jr.
PS, Bendigo is also the name of a former gold mining town in Australia. Bendigo in New Zealand got its name due to the large number of Australian gold miners that made their way over to New Zealand to search for gold in this area.