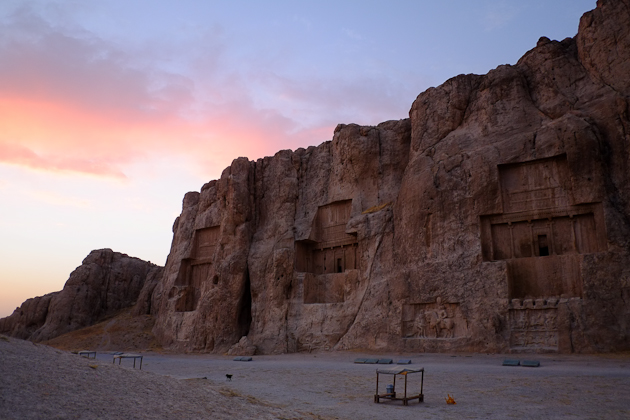 Naqsh-e Rostam, Shiraz, Iran. Incredible. Here in Iran, the abandoned structures have been abandoned for some time. Outside of the city of Shiraz, in central Iran, lies the incredible series of tombs and artworks known as Naqsh-e Rostam. Construction of these tombs-of-Kings dates back some three thousandyears ago.
Naqsh-e Rostam is quite simply one of the most incredible abandoned sites I have seen in all my travels. Again, as seems to be common with Iran, there were an incredibly small number of people visiting Naqsh-e Rostam on this day. Despite the 14 cents US entry fee, there was myself, Mrs Snaffler, and perhaps five other visitors present during the time I explored and took photos of Naqsh-e Rostam.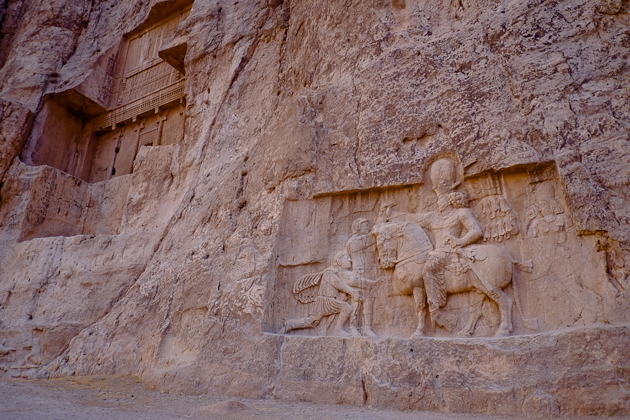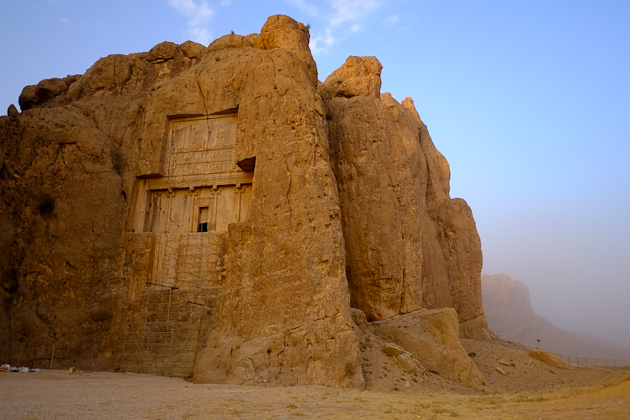 Before I talk further about the tombs of Naqsh-e Rostam, I should mention that unfortunately, I'm currently spending a lot of time looking for cruise deals. Mrs Snaffler has decided that if we take the next leg of our holiday on the high seas, on a cruise ship, I can't possibly drag her along to explore yet another dangerously abandoned building. And I thought a family holiday in Iran would be ideal. I may not be able to get out of this cruise, but I'll try my best to find a few abandoned islands along the way. Now that I have that off my chest, back to Naqsh-e Rostam.
Naqsh-e Rostam – Necropolis of Kings
The series of tombs at Naqsh-e Rostam are all elaborately carved into the side of a stone mountain side. One can't help but be amazed at the architectural feat of the builders that constructed the various tombs at. Although the photos go some way to showing the immense scale of these tombs, in real life, they take on a much more towering appearance.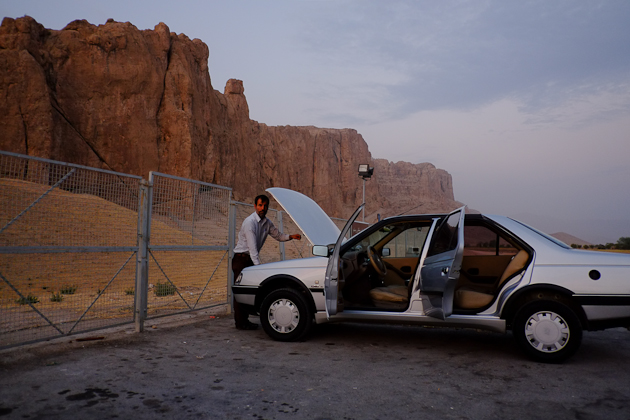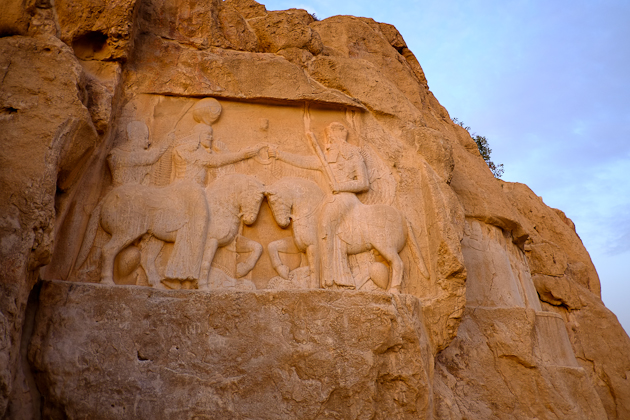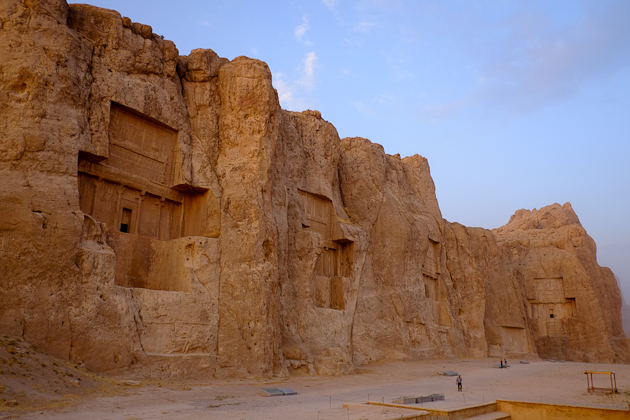 Historically, there was a river running at the base of the tombs of Naqsh-e Rostam. These days, the river has disappeared. The countryside is very dry. Clearly, the designers chose this location for its iconic and serene location – hill on one side, river on the other. However, a couple of millennia later, the entire area is almost a single colour of stone, adding to the surreal-ness of visiting these unique, and fairly unknown, monuments to former Kings.
Naqsh-e Rostam has five tombs, belonging to the Achaemenian Kings Darius 1, 2, and 3, as well as King Artaxerxes, and King Xerxes. Locally, the tombs are known as the Persian Crosses, as the shape of the hillside tombs is, well, a cross. Amongst the tombs, there are seven enormous relief's chiselled into the mountain, depicting scenes of generally about victorious battles and day-to-day royal life of thousands of years ago.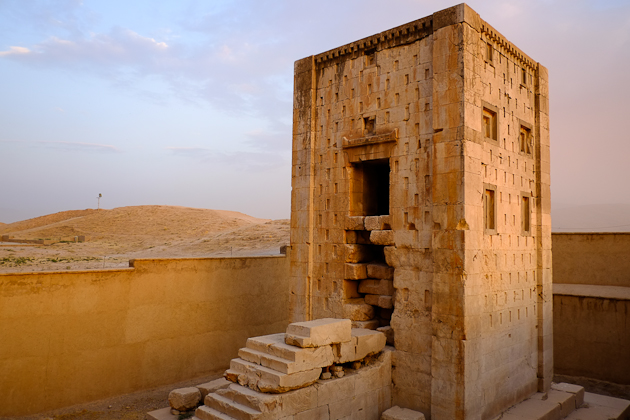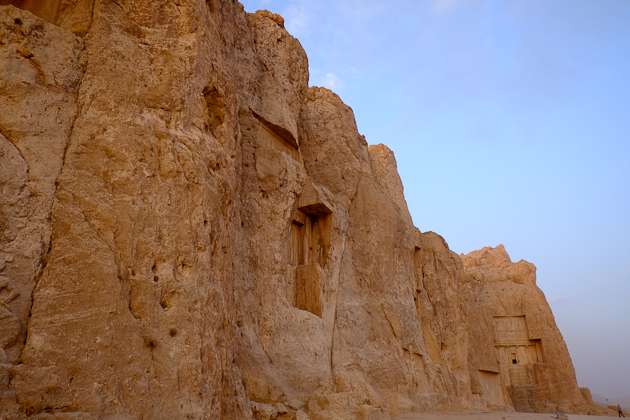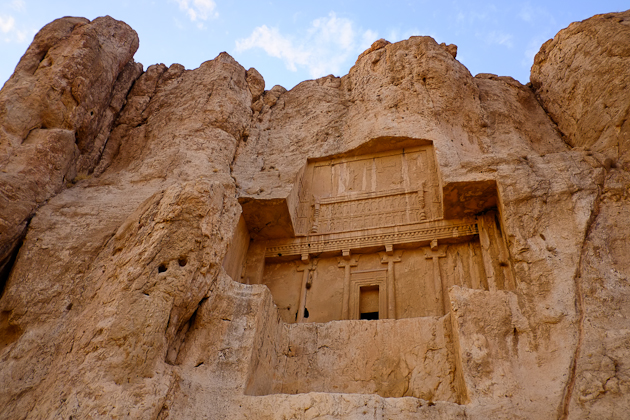 How to Get to Naqsh-e Rostam, Shiraz, Iran
The Naqsh-e Rostam tombs are located near the city of Shiraz, in Central Iran. They're around an hour or so by car from the centre of the city. If you do make it to Shiraz, you will easily be able to find a friendly local, or inexpensive taxi, to take you there. Naqsh-e Rostam isn't far from the ancient abandoned city of Persepolis, you can cruise between the two in easy day trip from Shiraz. In October 2012, the current price is less than $15 US dollars, to hire a private taxi for most of the day (about 6 hours).
To read more about Naqsh-e Rostam, here is a link to the Wikipedia entry.
Dr Hank Snaffler Jr.
PS, travel photography like this is easy. It's not your camera – you just need to know how to get out of auto. Click here  and take your travel photography to the next level. It's what I refer too constantly – easy, comprehensive, and it will get results. I personally recommend ""Getting Out of Auto"  - it's my secret weapon to learning how to shoot like a pro.