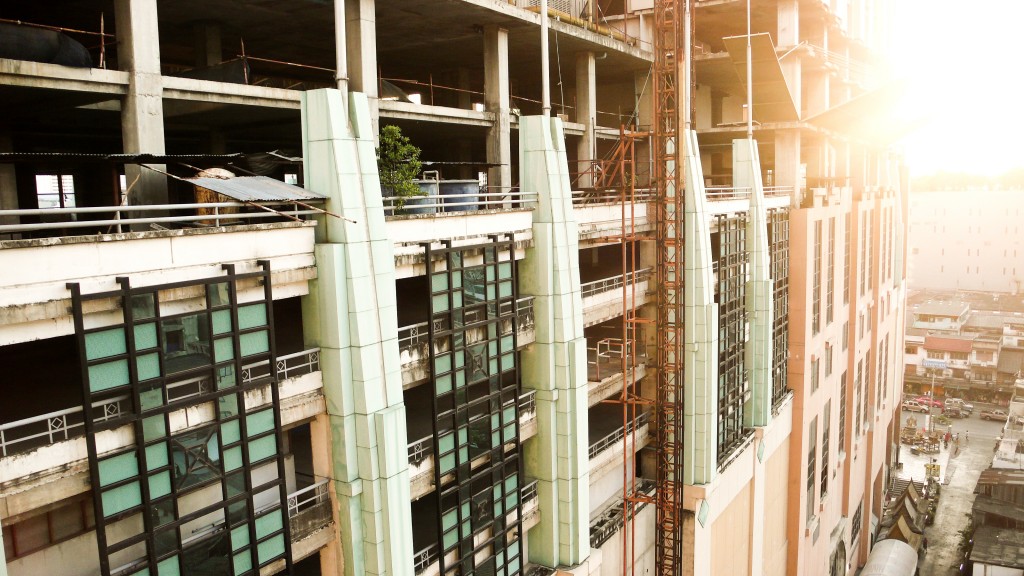 Bangkok is one of the world's great cities. Amazing food, smiling people, and abandoned skyscrapers. Sure, visiting abandoned buildings may not be on every travellers "to-do" list. For myself, it was irresistible. So, we entered. Unfortunately for my companion, Nurse Jane, there was a pack of mangy looking wild dogs guarding the exits of the elevator. Yes, an elevator, in an abandoned building. Operational. Well, partially operational.
There is a well-known saying "only in America". Here's a new one: "only in Bangkok". Only in Bangkok, could you walk into a shopping mall, take the elevator to the sixth floor, exit into a dark abandoned space, avoid the roaming packs of very aggressive wild dogs, climb a few rusty stairs, and find yourself outdoors on a concrete podium. The podium level is ten levels above ground, and sitting on the podium, are three, thirty level, totally abandoned skyscrapers. Next door, is another abandoned skyscraper, around twenty levels high. That's just the beginning of what this day had in store… what began as relatively peaceful protest, ended with over ninety people losing their lives.
Nurse Jane tagged along on this adventure, however, turned back after a quick exploration up to the thirteenth level. The wild dogs really were quite territorial. She later told me on her journey back to ground level, the dogs were guarding the exits, preventing escape. However, Nurse Jane made it out safely, and I carried on, to the very top of the building, alone.
The triplet-skyscrapers remain in various stages of completion. Windows have been installed on one of the towers, and not on others. Cladding is almost complete. An enormous amount of construction materials and equipment remains, rusting away. In general, the upper levels are almost skeletal in nature, and the concrete is crumbling.
From the top, the view offered a bonus opportunity. Firstly, the skyline of Bangkok, including the prestigious Bayoke Tower, Bangkok's tallest building, which is only a five minute walk away. However, on this day, the most fascinating (and frightening) view, consisted of civil unrest on a grand scale in the city streets below. Ten's of thousands of political protesters, the "Red Shirts", had taken over a large proportion of the central Bangkok area, and set up camp. What began as relatively peaceful protest, ended with over ninety people losing their lives.
Ironically, I was safer perched on the top of a forty level concrete carcass, than on mean streets below. I dedicate this post to those who lost their lives. Politics aside, it is always incredibly distressing to see civil unrest – fellow citizens taking life from each other. As a side note, within days of these photos being taken, a good proportion of the buildings in view had been set on fire, with major shopping complexes burned to the ground, and tens of millions of dollars in damage occurring. This was quite a surreal experience, I found it hard to comprehend the enormity of what was happening around me.
This urban exploration journey was probably one of the highlights of my many years of urbex adventures. There are a few things I should point out. First, it is never a good idea to explore alone. Never. Second, I have heard that being in jail in Thailand is no picnic. That, my friends, is the understatement of the year. The "Bang Kwang Central Prison", known as the "Bangkok Hilton" is one of the worlds most notorious facilities. You *do not* want to end up there, and you *will* be breaking the law should you choose to explore abandoned buildings in Bangkok.
Death, and prison – a pretty heavy ending to the story. Perhaps I can sign off by saying Nurse Jane, and myself, escaped from Bangkok without issue. For my money, Bangkok is an urbex dream, and I have already booked my flights back. Hopefully, the wild dogs will also be taking a vacation, away from Bangkok.
Thanks, and enjoy the photos.
Dr. Hank Snaffler Jr